Today we're checking out One Kings Lane latest flash sale collection of Indoor/Outdoor Rugs.  I spotted this classic repeating tile pattern and knew I had seen it somewhere before.
Retails for $25-$345
See.  Doesn't it look so familiar?  This has become such a popular pattern it's on everything home decor lately.  The border and color set this one apart from the masses and looky what I found at Ballard Designs…
Allover Trellis Indoor/Outdoor Rug
Retails for $89 – $429
It was like a reverse look alike search, and such a sweet victory!  Let's compare a specific size so you can get a better idea of the savings.  The upper price on each of these is for a 9×12 size rug.  So Ballard Designs is $429 vs $345 at One Kings Lane,a savings of $84.  That's not bad, but it's not great either.  I was sure we could do better.  So I gave it a go at Overstock and this is what I came up with…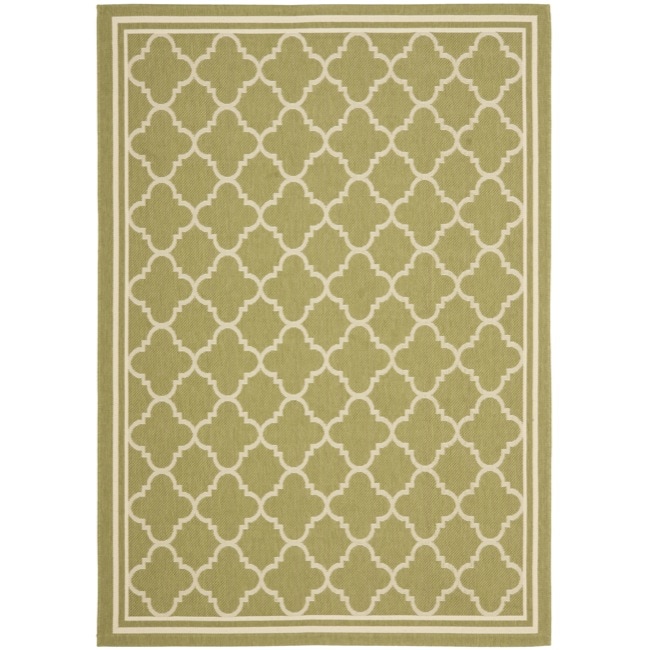 Poolside Green/Beige Indoor/Outdoor Polypropylene Rug
Retails for $32.99 – $259.99
Having trouble with the color change?  Here, let me help…
One Kings Lane Vale Outdoor Rug Green/Beige
Retails for $25 – $345
Another OKL version.  Same price and pattern just minus that border and with a new name.  Once again, the biggest size for the OKL and Overstock versions is 9×12 and the price comparison gets a little better $345 vs $259.99.  A savings of $85.  Almost exactly the same savings as the Ballard Designs and One Kings Lane match-up.
So, if we compare the pricey Ballard rug with our Overstock find, it's a savings of $169.   Now that's more like it!  I'm sure if you kept looking, you could find even more look alikes for this rug.  If you spot one let us know in the comments!