In case you haven't noticed, there are a lot of look alikes on all the home decor flash sale sites.  We've added a special page in the sidebar so you can keep up with the  flash-sale-look-alikes world and not miss out on some great items that don't stick around for long.  Today we are getting chatty about Dot & Bo.
Dot & Bo is a new flash sale site for me.  From what I've seen so far, they share the look alike philosophy I tend to live and blog by.  They seem to have 3 major collections,  Mid Century Classics, Industrial Chic, and the Modern Chairs collection.  Beyond these three collections, they have the more expected flash sale format of  themed sales that have a beginning and ending date.
Scrolling through the Industrial Chic Collection, I was struck by the number of Restoration Hardware lighting look alikes.  I thought it would be fun to share them with you as a group and compare them to the original RH versions.  So let's start with this beauty…
Dot & Bo Price $999
This is a LAL for Restoration Hardware's Foucault's Iron Orb Crystal Chandelier.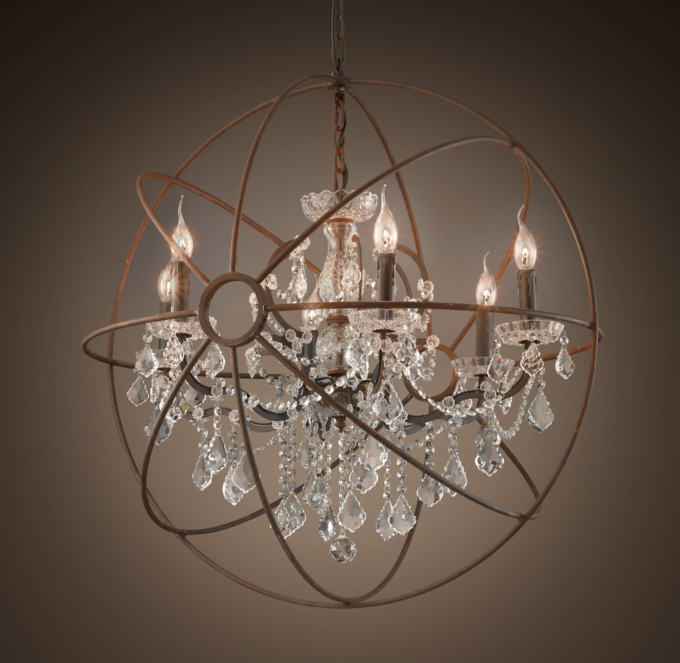 RH offers this in 3 sizes which retail from $1695 to $2795.
The Dot & Bo version has a 31.5 inch diameter.  The closest RH size is the medium which has a diameter of 32 inches, retails for $2295 and is pictured above.  There is an obvious difference in the amount of bling between the two chandeliers but I think that fewer crystals is a fair exchange for $1300 in savings.
Next up is this cagey classic, available in two sizes from Dot & Bo.
Dot & Bo Price, Small: $419.99, Large: $659.99
This is a dead ringer for the Restoration Hardware Steel Polyhedron Pendants.
Again, they come in 3 sizes, and retail for $395, $595, and $795
Here's where things get interesting.  The RH sizes are small: 18 inch diameter, medium: 25 inch diameter, and large: 32.5 inch diameter.  The Dot & Bo sizes are small: 21.3 inch diameter and large: 30.7 inch diameter, which come in between the 3 RH sizes.  The Dot & Bo prices seem to do the same thing, coming in between the 3 RH price points.
There is really no way to cut material costs on this one, so they have just made it available at different size and price points.  A look alike for sure, but not really a deal.
Our last match-up starts with this popular mid century look.
Dot & Bo Price$899
This is almost an exact match, even in size, to the Restoration Hardware Sputnik Filament Chandelier, Aged Steel, Large
This guy retails for $1050, which means the Dot & Bo version will save you $150. Not a bad deal, but if you can wait it out, I'm sure you could catch the RH version on sale for similar savings.
These three examples show how this look alike game tends to work.  When there is a way to cut costs on materials, the look alikes that go that route can be a good deal, really delivering the same look and style, and saving you a good amount of money.  When the design is simple and there isn't much give in the materials, a technique is to vary the size from the brand name offerings, but often at a similar price point.  And when size, design, and materials all match-up pretty well, a modest savings over the original is the norm.  Once you know the game, you can play it well.
See other LALs for these Restoration Hardware chandeliers here, here, and here.  Can you tell what methods these LALs used?  Would you trade a little bling for $1300 in savings?